NEW Holiday Bundle Box
To make your holiday shopping even easier, we're delighted to introduce our NEW Holiday Bundle Box.
This curated selection of soups features:
Chestnut Maple
Butternut Squash Pear
Roasted Cauliflower
A delightful trio that's perfect for the season's gatherings or as a gift for someone you REALLY care about!
SHOP NOW
Why Customers Love Our Gluten-Free Vegan Soups
Our Soups
Soups shown with added ingredients & inclusions, your jar includes soup only.
We're helping with shipping costs
Everyone gets a FLAT $10 shipping on all orders under $100.
Popular Soup Bundles
Try one of curated soup bundles
Soup for Health. Soup for Life!
With every bite of food we are either feeding health or feeding disease. We understand the importance of reading labels.
Nutrition Facts Servings: 2, Serv. size: 1 (237mL), Amount per serving: Calories 160, Total Fat 8g (10% DV), Sat. Fat 6g (30% DV), Trans Fat 0g, Cholesterol 0mg (0% DV), Sodium 370mg (16% DV), Total Carb. 10g (4% DV), Fiber 7g (25% DV), Total Sugars 6g (Incl. 0g Added Sugars, 0% DV), Protein 7g (14% DV), Vitamin D (0% DV), Calcium (4% DV), Iron (15% DV), Potassium (6% DV), Vitamin A (380% DV).
View Nutrition Labels For All Soups
Low Sugar Diet (or suffering diabetes)
Soup Gifting
Not sure which soup will warm their heart? Why not send them an 18 Chestnuts Gift Card and let them choose their favorite?
With a gift card, you can ensure they'll get the perfect bowl of comfort without the guesswork. Plus, it's a quick and easy gift that's perfect for any occasion!
BUY NOW
Our Promises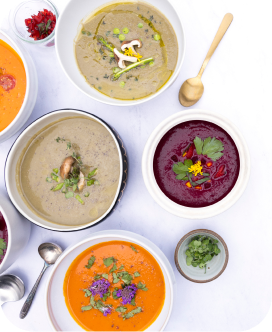 Inside The Kitchen
We offer our tasty, plant-based soup for one-time purchase or on a subscription basis, in either a 16 oz or 32 oz size. Soups are shelf-stable (no refrigeration needed!) and are carefully packaged in glass jars, minimizing the negative impacts of plastic on your health and our earth.
Community and sustainability are at the forefront of our operations. We source ingredients locally whenever possible, compost leftover food waste, and donate a portion of our profits to charity.
How We Do It
1
Where are your ingredients sourced?
We try to maximize our sourcing from local and regional farmers but also source from a regional supplier here in Asheville, NC.
2
How much sugar is in your soup?
All of our soups have zero added sugar.
3
How was nutrition calculated?
It was derived utilizing an industry standard nutritional information software program.
4
How many servings of vegetables are in each jar?
The Dietary Guideline for Americans recommends consuming 3-5 servings or 230-375 grams of vegetables per day for adults. There are 2 servings of vegetables in every jar.
5
How much gourmet soup is in each jar?
Our 16oz jar contains 2 servings of soup. Our 32oz jar contains 4 servings of soup.
6
When will I receive my soup delivery?
Soups are usually delivered between 2-3 business days. Don't forget orders over $100 receive free shipping!
Giving Back
At 18 Chestnuts, we want to nourish our customers and our community as a whole. That's why we've incorporated charity and community into our business model from day one.
We believe that children who understand and appreciate healthy, delicious food grow into adults who contribute to the health of their families and communities. To help make this vision a reality, we provide education to local children on cooking, nutrition, and the benefits of healthy food.
We also donate a portion of our profits to a local charity. Soup brings people together, and together, we can work to make our community better for all.
We encourage our customers to assist us in our philanthropic efforts by considering a directed donation to this wonderful organization.
---
Our Current Charity
We're proud to support and host monthly dinners for the kids at the Black Mountain Home For Children, Youth and Families' center and support their independent living program.
As Featured In


Connect with us
Follow on IG & TikTok @18Chestnuts
Find Us At A Store Near You
You can purchase 18 Chestnuts here on our site, or use our store locator to find retailers near you.
Be sure to subscribe to our newsletter for updates about future partners!
Store Locator