Chestnut Maple Soup
Back By Popular Demand | While Supplies Last - Get Yours TODAY
An unforgettable combination of earthy chestnut flavor and sweet maple syrup delivers an indulgence that's also a nutrition powerhouse!
The secret of our chestnut soup is the nutritional rarity of the main ingredient. Although the chestnut is a tree nut, it is low in fat and high in Vitamin C, unlike its many cousins.
Enjoy the soft beige color and smooth texture of our Chestnut Maple Soup first thing in the morning or as a meal anytime throughout the day.
Click here to view Nutrition Facts & Ingredients or swipe through the images.
Get gourmet soup delivery today by adding 18 Chestnuts' Chestnut Maple Soup to your box.
*Disclaimer:

 

Soups are shown with added ingredients & inclusions. Your jar includes soup only.
Key Benefits

Vitamin C: strengthens the immune system and aids in iron absorption.
Vitamin B6: helps with normal brain development, and strengthens the nervous and immune systems.
Magnesium: helps with biochemical reactions throughout the body, from energy creation to gene maintenance to mood regulation.
Potassium: helps regulate blood pressure, fluid balance, and nerve signals.
Manganese: helps to process cholesterol, carbohydrates and protein.
Nutrition Facts

Amount /
Serving

% Daily
Value

Total Carbohydrate

29g

11%

Includes 0g Added Sugars

3g

6%
Ingredients

Ingredients: Vegetable Stock (Water, Onion, Celery, Carrots, Bay Leaf, Peppercorn), Chestnuts, Sweet Potato, Pears, Carrots, Celery, Leeks, Maple Syrup, Parsley, Olive Oil, Salt, Onion, Spices, Garlic, Star Anise, Ascorbic Acid (Vitamin C), Citric Acid, Kosher Salt, Bay Leaf
$12.50 - $18.50 per jar
Sizes: 16 oz (2 servings) or 32 oz (4 servings)
Add Soup to Order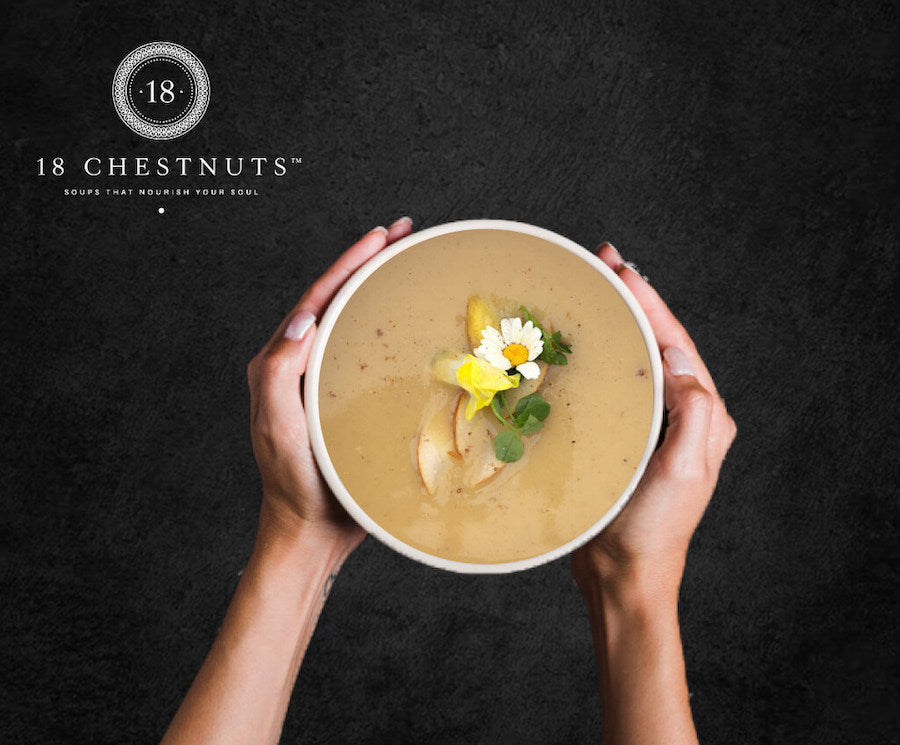 Star ingredients that helps boost the immune system:
CHESTNUTS: More similar to fruit than to tree nuts, chestnuts are high in vitamin C, potassium, fiber, magnesium, zinc and antioxidants.: Maple syrup is high in many minerals, including manganese, zinc, copper, iron and magnesium.
MAPLE SYRUP: Maple syrup is high in many minerals, including manganese, zinc, copper, iron and magnesium.
Our Promises

Vegan Soup Bundles You May Like
Spice Pairings & Topping Suggestions
Toppings

Any Plant-Based Soft Cheese

Pairings

Dried Tart Cherries or Cranberries (breakfast time); Baked Kale Chips; Sunflower Shoot Microgreens (lunch/dinner)

Protein

Sunflower Seeds; Oven-Roasted Walnuts