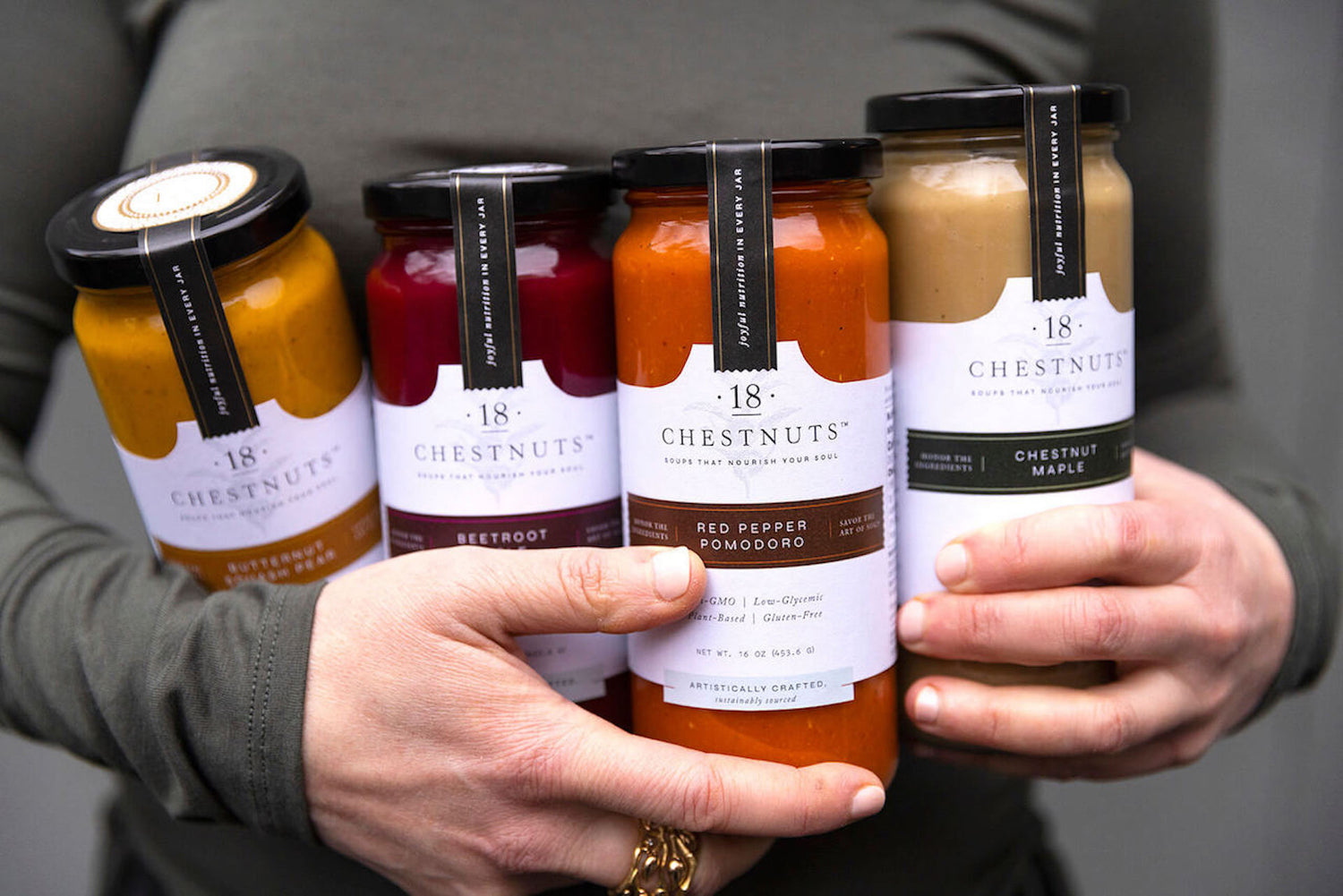 Build Your Own Box of
18 Chestnuts' Soups
Our Build Your Own Box allows you to customize your 18 Chestnuts flavors.
We offer One Time Purchase or
Get 10% Off Every Order With Our Subscribe & Save
Build Your Box
Soup Gifting
Not sure which soup will warm their heart? Why not send them an 18 Chestnuts Gift Card and let them choose their favorite? With a gift card, you can ensure they'll get the perfect bowl of comfort without the guesswork.
Buy now
Our Promises

Reviews
I've tried to go plant based for my food intake and 18 Chestnuts has been a wonderful find! The soups are clean, I can pronounce all of the ingredients, and the flavor is excellent. I'm glad they have subscriptions too!

Trygve O.
The Beetroot Apple soup was even better than expected! The earthy beet flavor is dominant,
with a slightly sweet finish from the apple. I served it with a panko parmesan crusted chicken
breast and was wholly satisfied. Delicious!

Michelle H.
I personally like to eat them after a long day of practice, just because of the advanced nutritional value and how they help aid you in hydration as well.

Keith Ismael - Center for San Francisco 49ers
The best thing about it is you don't have to refrigerate them! You literally pick them, take them with you on the go, and you have them!

Sammis Reyes
I seriously love 18 Chestnuts. Every flavor is delicious, although I live for the carrot ginger dill and red pepper pomodoro. I could eat both of these every day. Somehow these soups are light and comforting at the same time. The ingredients are super fresh. These are one of the few things I eat and feel more awake after. They are great for a simple lunch when I'm at work. Thanks y'all!

Sarah B.