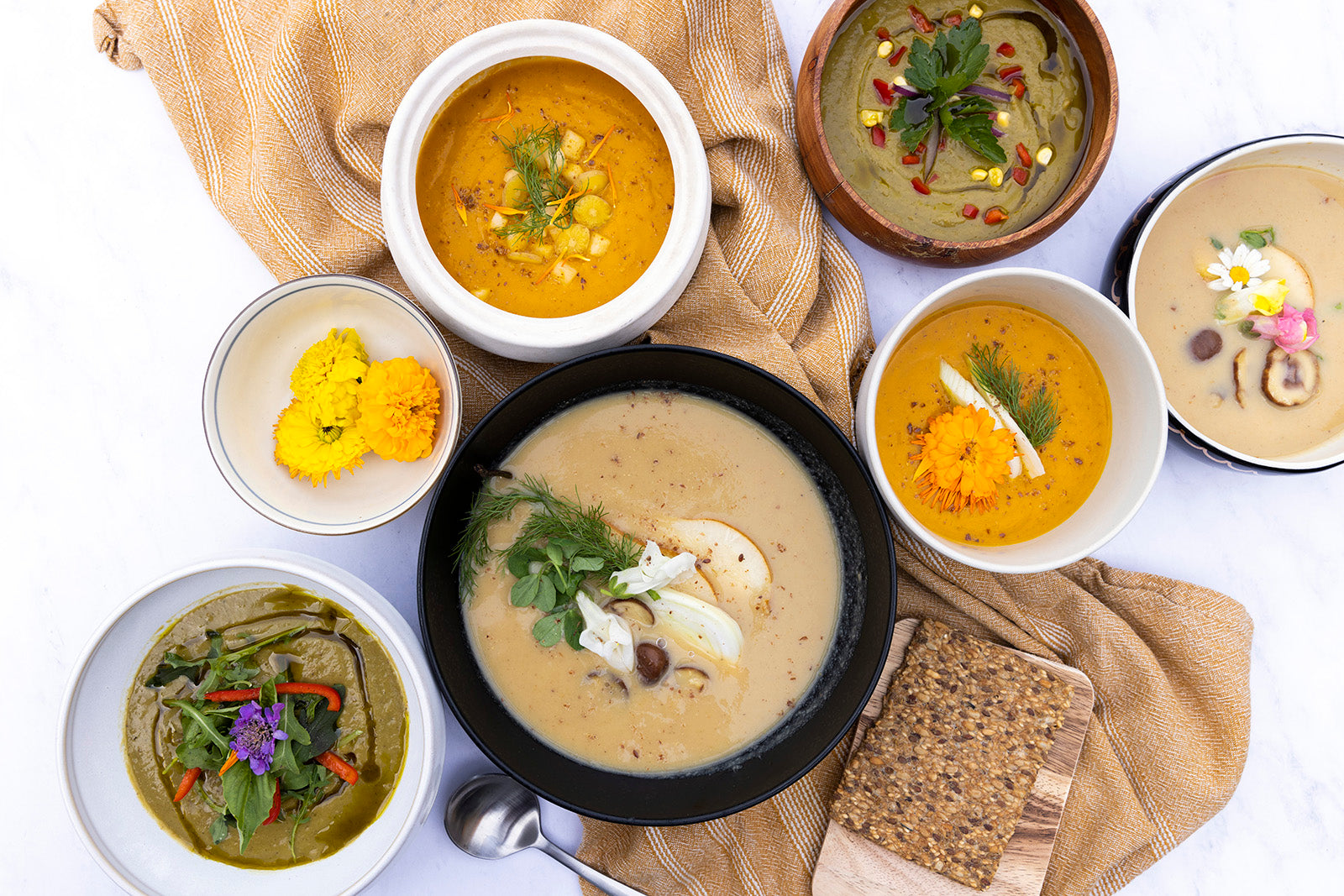 4 Easy Toppings For 18 Chestnuts Soup
Article at a Glance
Just by adding in some of the ideas in this article, you can customize our premade soups very easily.
If you add raw vegetables, make sure to slice them thinly so they don't sink to the bottom of the soup.
Add crunchy toppings such as croutons to add a different texture to your soup.
TABLE OF CONTENTS
If you love soup, then you know that there are unlimited possibilities when it comes to toppings that add a little extra flavor and flair. Whether you're looking for additional color or texture, or simply want to try something new, we have a few soup toppings suggestions.
4 Easy Soup Toppings To Try
More Veggies
Sprinkle vegetables on soups to add texture and visual interest. Both cooked and raw vegetables work, but if you're using raw veggies, slice them thinly so they don't overpower the flavor or sink into the soup. Some vegetables that are great for garnishes include:
Thinly sliced radish or cucumber
Julienned carrot, cabbage or jicama
Chopped tomato
Asparagus tips
Corn or Peas
Swirls And Dollops
Sauces and spreads like pesto and plant-based yogurt can be a great addition. These toppings add additional body and flavor to a soup. Other toppings you can dollop and swirl in include:
Salsa, gremolata, or caponata
Aioli, tzatziki or hummus
Extra-virgin olive oil, sesame oil, or other nut oils
Hot sauces
Asian condiments like hoisin sauce, fish sauce, or soy sauce
Crunchy Toppings
Add crunch to your soup for a boost in texture. From croutons to coconuts, the possibilities seem endless. Some crunchy toppings include:
Croutons or breadcrumbs
Toasted nuts like almonds or hazelnuts
Crumbled tortilla chips or crackers
Toasted pumpkin or sunflower seeds
Toasted coconut
Sprinkle A Pinch
Herbs and spices go great with 18 Chestnuts soup. This is a great way to customize the flavor of your soup to fit your family's tastebuds. For some subtle flavor, you can add a touch of herbs or other garnishes such as:
Chives, cilantro, dill, or parsley
Spices such as cumin, paprika, or white pepper
Lemon, lime, or orange zest
Finding the right toppings for your soup can be a fun experiment. Your pairings can provide an immersive experience personalized to your taste. Whether it's a pinch of herbs, a crunch of croutons, or additional sauces and veggies, the possibilities are endless when it comes to soup toppings. Let us know how you serve your soup on our Facebook page!
18 Chestnuts crafts delicious, plant-based soups that deliver on nutrition and flavor. We offer soup delivery subscriptions and one-time orders. Whether you're too busy to cook, want a nutritious meal option, have dietary restrictions, or want to send soup to someone who needs a comforting meal, 18 Chestnuts is for you!
With a wide range of all-natural soup flavors including Beetroot Apple, Red Pepper Pomodoro, Carrot Ginger Dill, Butternut Squash Pear, and Asparagus Shiitake, our gourmet soup will thrill your tastebuds. All 18 Chestnuts soups are dairy-free, low-glycemic, locally sourced, and nutrient-dense. Check out our soups and schedule your gourmet soup delivery today!
Source: EatingWell, 21 Tasty Topping Ideas to Take Your Soup from Ordinary to Otherworldly