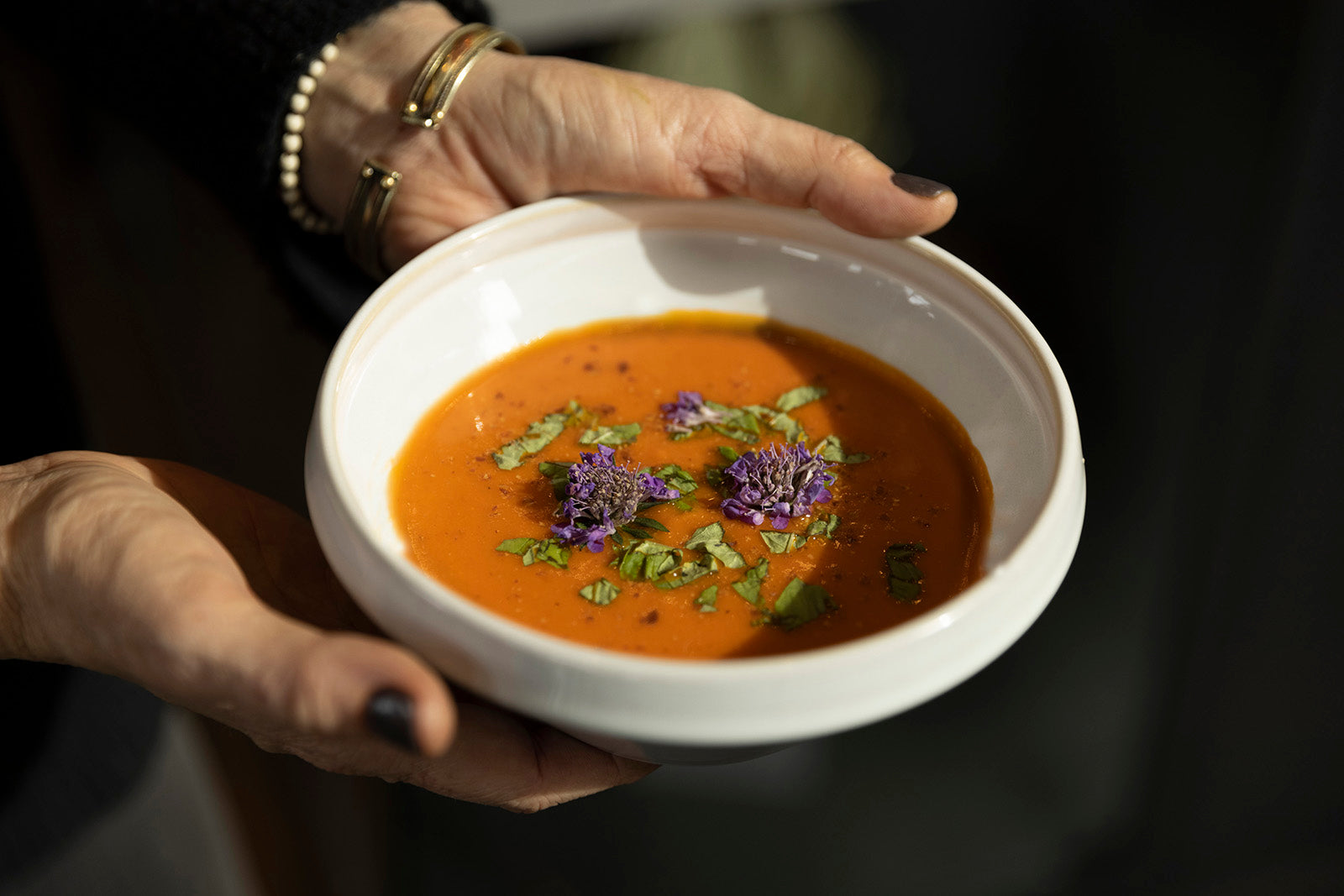 How To Eat Healthy When You're Too Busy To Cook
Article at a Glance
We often make bad food choices in the name of convenience.
By keeping easy-to-prepare healthy foods on hand we can stay on a healthy track.
Our soups are shelf stable while tasting fresh and homemade.
TABLE OF CONTENTS
As employees go back to the office, kids start school and sports, and fall holidays near, we're all busier than ever. When time is limited, healthy eating is often the first thing to fall by the wayside as families seek fast and convenient options. But it's possible to get a nourishing meal on the table even when you're busy.
Healthy Eating Tips For Busy Seasons
Keep Zero-Prep Meals On Hand
Keep a few heat and eat meals  in the pantry for those nights that you don't have time to cook. Many prepackaged or pre-made meals are high in sodium or additives. 18 Chestnuts soups are plant-based, gluten- and soy-free, low-calorie, and made with 100% natural ingredients. Our soups fall within recommended per-meal sodium allowances, making them a more heart-healthy option than canned soups from your local grocery store. 
Because our soups are shelf-stable (no refrigeration required!), they're an easy option for the busiest of evenings! Set up a soup subscription plan and have healthy food delivered to your door without lifting a finger. No commitment required – cancel anytime!
Embrace Simplicity
A busy weeknight is not the time to try a new, elaborate recipe. Come up with a few simple meal options and make sure to always have the ingredients on hand. Print out or write down recipes and make your own recipe book so instructions are always accessible.
Stock The Pantry
Keep plant-based pantry staples like brown rice, canned beans, quinoa and whole wheat pasta on hand for simple sides and main dishes.
Chop In Advance
Spend an hour on Sundays chopping and prepping all the vegetables you'll need for the week. This includes snacks and sides, but also aromatic vegetables like onion, garlic, carrots and celery. If you're really strapped for time, buy pre-cut or frozen veggies, or fully premade meals!
Eat Snacks For Dinner
No time to cook? Serve a snack meal – also known as a charcuterie board. Lay out your favorite crackers, fruits and veggies, dips, nuts, plant-based meats and cheeses, and let your family make their own plate. This is one of our favorite ways to serve our soups!
18 Chestnuts crafts delicious, plant-based soups that deliver on nutrition and flavor. We offer soup delivery subscriptions and one-time orders. Whether you're too busy to cook, want a nutritious meal option, have dietary restrictions, or want to send soup to someone who needs a comforting meal, 18 Chestnuts is for you!
With a wide range of healthy soup flavors including Beetroot Apple, Red Pepper Pomodoro, Carrot Ginger Dill, Butternut Squash Pear, and Asparagus Shiitake, our gourmet soup will thrill your tastebuds. All 18 Chestnuts soups are dairy-free, low-glycemic, locally sourced, and nutrient-dense. Check out our soups and schedule your soup subscription today!
Source: Self, "15 Time-Saving Tips for Eating Healthy When You're Busy"