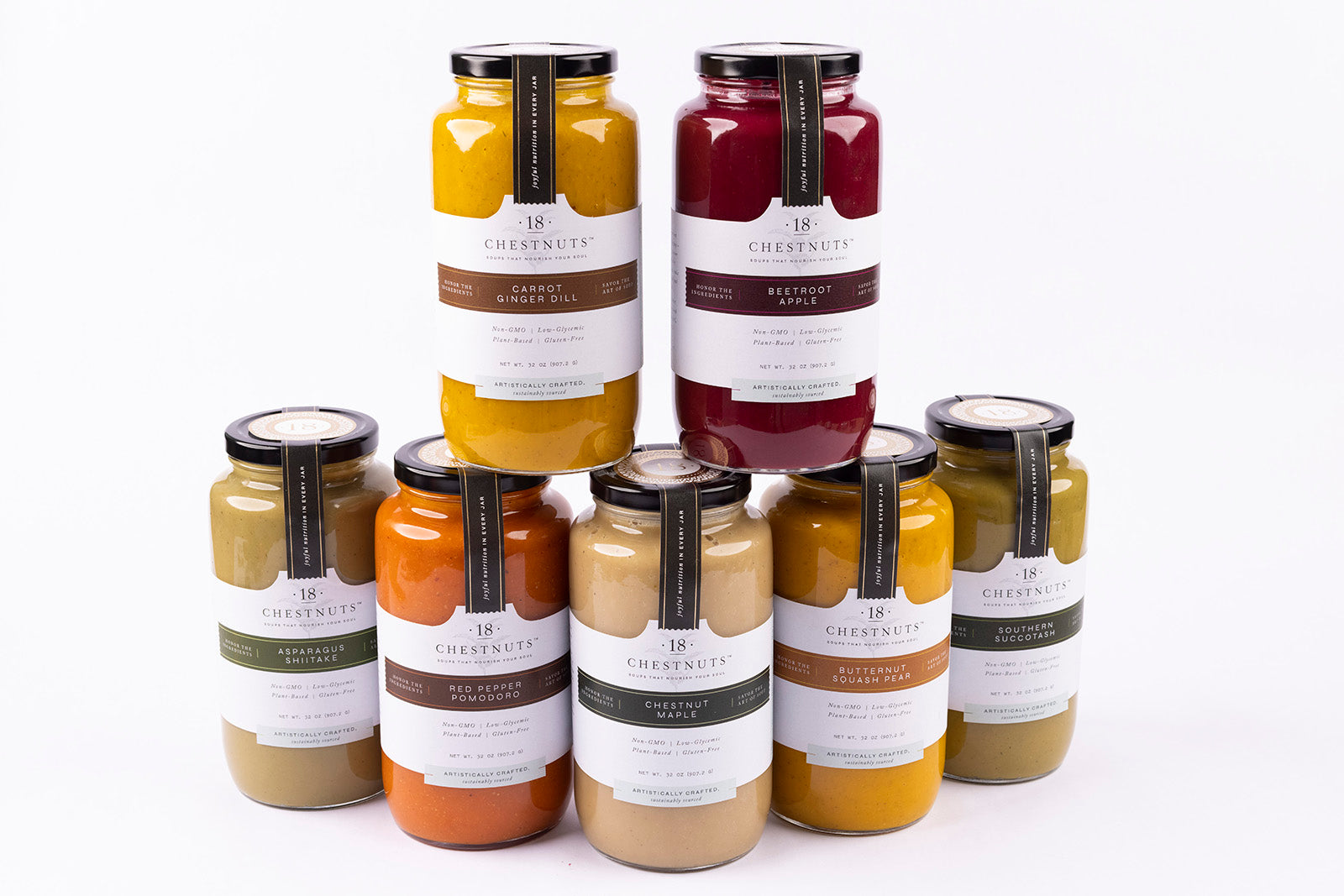 Forget Flowers! Great Alternative Gifts To Cheer Someone Up
Article at a Glance
Flowers are beautiful, but we have some better ideas to send as gifts instead.
There are many gifts you can send that last much longer than flowers.
A holiday gift box of tasty nutritious soups is a long-lasting thoughtful gift idea.
TABLE OF CONTENTS
The holiday season is upon us! And that means gift giving season is already here—oh my! Do you have all of your gifts bought yet?
Maybe a loved one or a family member is down on their luck and you want to send them a thoughtful gift to cheer them up. Especially if they live far away, sending a gift for a special occasion can be tricky.
Your first thought might be to send them flowers. But sending flowers isn't always so easy either.
Fresh flowers are expensive, and flower delivery costs are high. You might be wondering, are there any alternatives to flowers? What great gift can I send them that will cheer them up?
There are plenty of flower alternatives that you can send to your loved ones this holiday season. Whether you are in a gift giving mood, looking for an easy holiday gift, or just need to send them something that will make them smile, we have great alternative gifts for any occasion.
Let's explore why flowers aren't such a great gift anymore and what things to send instead of flowers.
Why Flowers Are Outdated Gifts
Gifting a loved one or a family member flowers is a tradition that's been around for years. But as times change and we shake up old traditions, we need to adapt to what's new and trending.
These days, sending flowers isn't so popular. With more and more distance between people and inflation increasing prices, delivery items are getting expensive.
Fresh flowers have always come with a pretty hefty price tag. While sending flowers is a thoughtful gift, it can easily cost more than your budget allows.
With the added price of delivering flowers to someone's doorstep, there's just no way to justify sending flowers anymore. Luckily, there are plenty of alternatives to flower delivery, and it'll be easy to find something that fits your budget!
Everyone wants to make sure their loved ones receive thoughtful gifts on special occasions. But sending flowers isn't your only option.
Let's look at some special occasions and what to send instead of flowers.
Need Some Cheering Up?
There are tons of occasions where flowers might be your first thought to send. But flowers aren't always seen as thoughtful gifts!
Here are some special occasions where you can send an alternative to flowers as a meaningful gift instead.
Birthdays
Birthdays are such a special celebration since you're celebrating the birth of someone you love! This is the perfect occasion to gift that special someone something that they'll adore. Instead of sending flowers, you might want to buy them a sweet treat instead! Make sure they have a happy birthday by sending some candy or even a cake!
Anniversaries
Anniversaries are the true test of time. Celebrating big milestones in your relationship deserves something special. Sending flowers might seem like the most romantic idea ever, but fresh flowers die in a snap! Instead, try sending your loved one a gift box full of something they love. A meaningful gift like that will last much longer than flowers.
Condolences
The saddest occasions require gifts that are comforting and don't require work. Sending flowers just means that your family member or loved one will have to take care of such an expensive gift. As an alternative to flowers, try sending a self-care gift box or even a gift basket full of sweet treats that they can enjoy as a comfort.
Holidays
There are so many holidays that surround gift-giving, but what about the ones that don't? During these holidays, you might find yourself wondering how to celebrate the occasion with the people you love. Say no to sending flowers, and think of sending a card with a heartfelt note written inside instead.
Get Well Soons
Is someone you know sick? Sending flowers might just start up their allergies and make them feel worse. Instead, look into sending them a gift basket. Something with healthy fruits or self-care items that will help them feel like themselves again is a much better alternative to flowers.
Better Gifts To Give
There are so many things to send in the mail besides flowers. If you're looking for a meaningful gift to give in order to cheer someone up, don't choose flowers.
There are plenty of flower alternatives out there. You just need to pick which ones you want to invest in.
Here's what to send instead of flowers!
Shop 18 Chestnuts For A Holiday Gift Box That Stays Fresh
Instead of spending your money getting something that won't last and has no real use, buy one of our gift box sets instead!
Flowers will die, and gift baskets will go bad, but you know what doesn't? Soup!
At 18 Chestnuts, we're here to bring you and your loved ones the best possible soups you can find anywhere in the world. No matter how far you are from your loved ones or your family members, you can still send them a delicious gift when you buy from us.
If you're looking for an alternative to flower delivery, why not choose a soup delivery?
Our plant-based, gluten and dairy-free soups are warm and comforting on even the worst of days. If you have a family member who you want to cheer up, send them an 18 Chestnuts' gift box and get them smiling.
A Great Alternative To Flowers
Our Holiday Gift Box is the perfect gift for this season. With a warm, spiced mix of our 3 winter soups, you'll get a gourmet, delicious gift to give your family members or loved ones on any special occasion.
The Butternut Squash & Pear soup is packed full of vitamins to make sure your immune system stays healthy. Even in the coldest of winters, it'll warm you up and keep your immune system working to fight off that common cold!
Our Chestnut Maple soup is a sweet treat full of nutrition and everything healthy. It's like how a spoonful of sugar helps the medicine go down, but better. You'd never guess how good for you this soup is from how good it tastes!
If you have a comfort food lover in your life, the Southern Succotash soup will hit the spot! With a blend of Cajun flavors and a healthy mix of beans and corn to boost your iron levels, you can't go wrong with this perfectly warm and delicious soup.
And best of all, when you buy our holiday gift box, you're getting all three! You get to choose what size jars you buy for our soups so you can make sure that your family member is getting a delicious gift that fits your price point.
If you're trying to choose an alternative to flowers, then you have to check out our holiday gift box instead. Rather than spending a ton of money on fresh flowers that will just die and getting stuck with a huge delivery fee, you want a meaningful gift that will last.
Unlike flowers, our soups stay fresh! They never die, and they'll be eaten too quickly to go bad.
When you buy our holiday gift box, you know that your loved ones are getting something truly special. Flowers might look pretty, but they don't have much use. All they do is take up space and need tending.
Sending flowers is old school and outdated. Instead, buy our holiday gift box of nutritious and delicious soups and deliver them right to your family member's door! You'll cheer them up in no time with such a thoughtful gift.
Plus, at 18 Chestnuts, you get free shipping for any purchases over $50. Flower delivery is expensive and unreliable. Choose our soups as an alternative to flower delivery, and you'll be sure that they'll love your gift.
Choose 18 Chestnuts For Your Gift-Giving Needs
There is nothing that feels better than giving a gift to someone you love. Whether it's for a holiday, a special occasion, or just because they are feeling under the weather.
You want every gift that you give to be something meaningful. Thoughtful gifts are the ones that are easy, enjoyable, and useful.
Giving flowers is outdated and expensive. Instead of buying something that won't last, will die without being taken care of, and has a high price due to delivery fees, why not buy something practical?
At 18 Chestnuts, we make plant-based soups that are gluten and dairy-free. We pride ourselves on creating soups that are as nutritious and healthy for you as they are delicious!
So instead of gifting your loved one a bouquet of flowers when they need some cheering up, send them something useful, like our holiday gift box! If they are sick, sad, or just need some extra warmth in their life, our soups are sure to make them smile.
Choose our holiday gift box of winter soups as an alternative to flowers this gift-giving season!