Beetroot Apple Soup
This stunning soup delivers a nutrient-dense punch of fiber, folate, potassium, vitamin C, magnesium and antioxidants. 
The velvety-smooth texture of our Beetroot Apple soup provides warmth on the coldest days – and will cool you during the hot summer months! While beets deliver the color, we've also added apple, Swiss chard, and a touch of horseradish for a balanced bowl that will leave you satisfied.
Click here to view Nutrition Facts & Ingredients or swipe through the images.
*Disclaimer:  Soups shown with added ingredients & inclusions, your jar includes soup only.

Key Benefits

Vitamin A: good for immunity function and vision, and is an antioxidant.
Vitamin B9/Folate: helps with the production of red blood cells and keeps DNA strong.
Vitamin C: strengthens the immune system and aids in collagen production.
Vitamin E: supports vision and skin health, and regeneration of blood cells.
Vitamin K: improves blood clotting and regenerates bone tissue.
Lutein: supports eye and vision health.
Flavonoids: reduce the risk of cancer and other chronic disease.
Nutrition Facts

Amount /
Serving

% Daily
Value

Total Carbohydrate

10g

4%

Includes 7g Added Sugars

0g

0%
Ingredients

Ingredients: Water, Beets, Swiss Chard, Apple, Celery, Leeks, Horseradish (Horseradish, Vinegar, Water), Salt, Onion, Spices, Garlic Parsley, Dill, Olive Oil, Ascorbic Acid (Vitamin C), Kosher Salt, Citric Acid
$12.50 - $18.50 per jar
Sizes: 16 oz (2 servings) or 32 oz (4 servings)
Add Soup to Order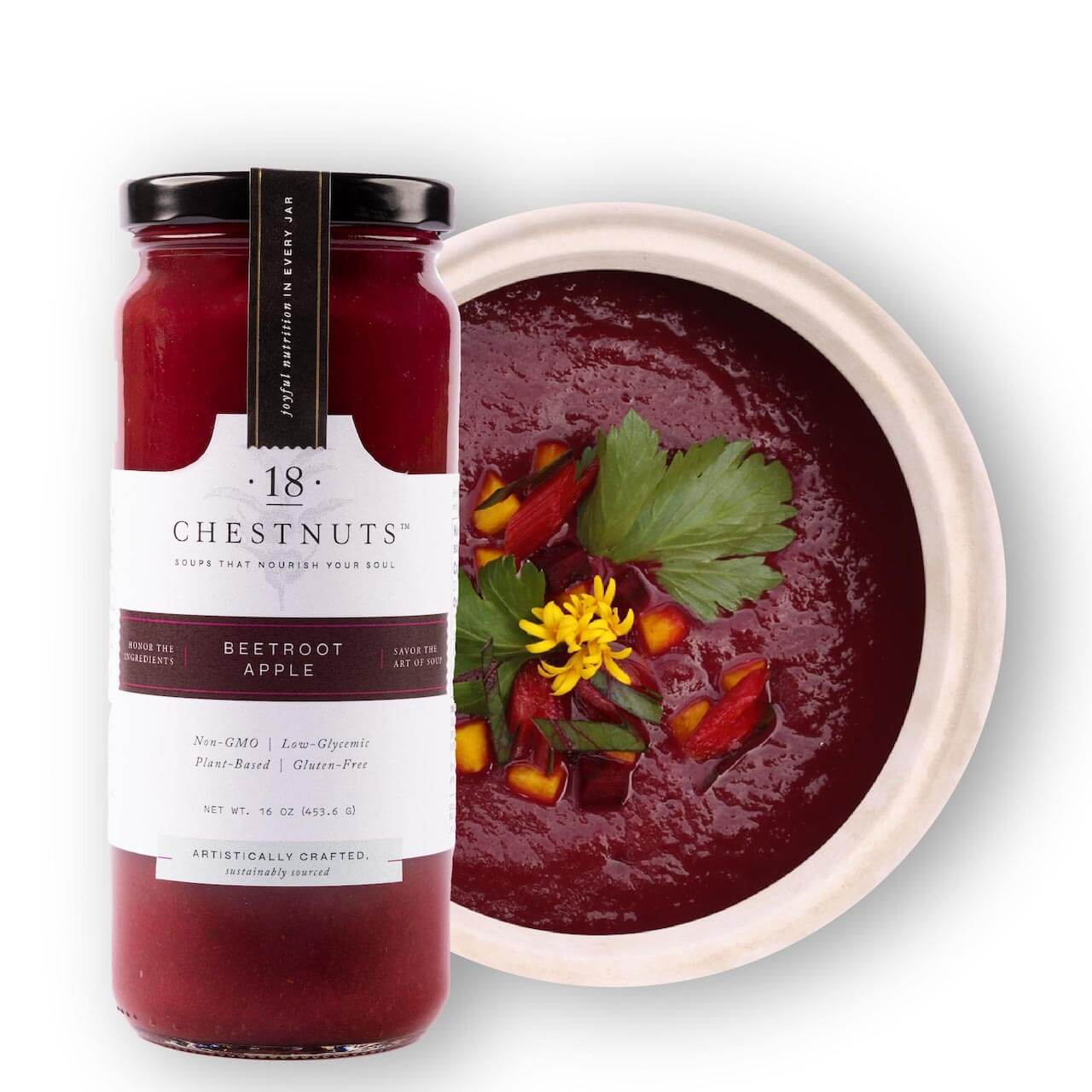 Star anti-inflammatory ingredients in this soup:
BEETS: Beets' signature red color is the product of betalains, a natural plant pigment that provides antioxidants and helps reduce inflammation. Beets are also high in folate, potassium, magnesium and fiber.
LEEKS: Leeks contain high amounts of vitamin K, lutein, iron, folate, and flavonoids. A member of the allium family of plants, leeks may reduce the risk of certain cancers.
SWISS CHARD: This nutritious leafy green is high in vitamins A, C and K, as well as potassium, magnesium, iron and fiber.
Our Promises

Vegan Soup Bundles You May Like
Spice Pairings and Topping Suggestions
Toppings

Non-Dairy Sour Cream, Chopped Cucumbers and Dill

Pairings:

Baked or Roasted Potatoes

Protein:

Plant-based Hard or Soft Boiled Eggs; Plant-based Chicken with Roasted Flavor