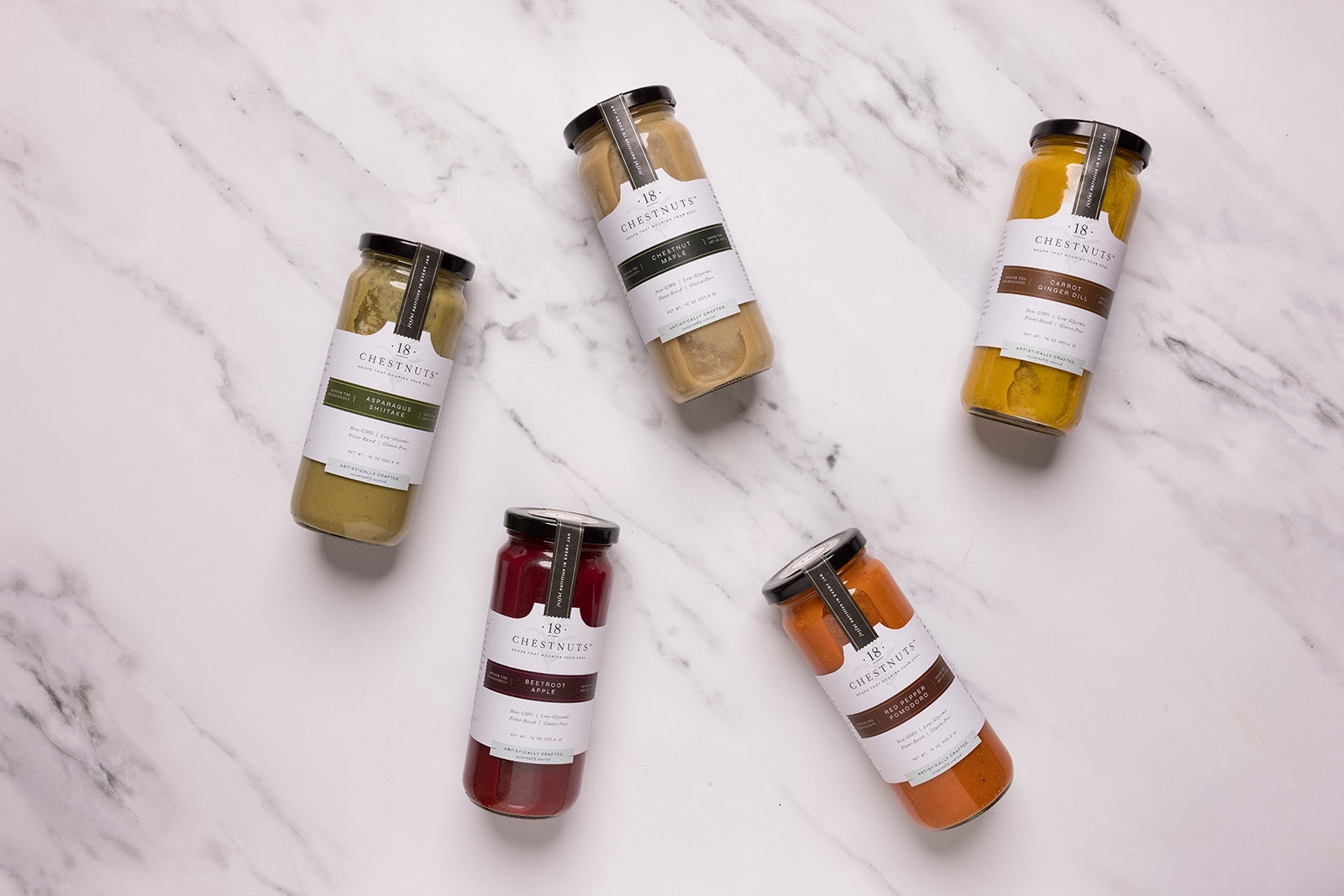 Glass Jars Are Better For Health – And The Environment, Too
Article at a Glance
Glass jars are a healthier option than plastic, it's better for you as well as the environment.
By using glass jars for packaging we can reduce food waste and maintain flavor and quality over plastic packaging.
The glass jars used to package our soups can be recycled endlessly.
TABLE OF CONTENTS
Why We Use Glass Jars For Our Soup
Sustainability has been a priority for 18 Chestnuts from day one. Glass jars may be more expensive in production and shipping, but the benefits far outweigh the overall cost. We use plastic-free packaging for not only the health of the customer, but for the environment as well.
Healthier Product
According to a survey done by the University of Oklahoma, organic foods that are packaged in glass better maintain taste, quality, and purity. Glass also preserves the nutrition of the food and its ingredients, while also extending shelf life. This, in turn, helps to reduce food waste.
Read: 5 Easy Ways to Reduce Food Waste
We created 18 Chestnuts plant-based soups with the goal of providing nutrition in a flavorful and satisfying way. Using glass packaging helps us to achieve that goal.
Glass Is Sustainable
Glass can be recycled over and over without losing its integrity. Plastic, on the other hand, must be remade into something different, such as plastics used for shipping or carpet padding.
As a result, plastics aren't technically being recycled, they're being "downcycled." This means that the plastic loses quality each time it has to be recycled.
The glass jars that are used for our soup can be recycled endlessly. This creates fewer carbon emissions from recycled plastics, and requires less resources to make new jars.
In addition, many of our customers reuse our glass jars in their homes to store food, such as leftovers, homemade salad dressings, or dry goods. If you've found a creative way to reuse our jars, please share it with us on Facebook!
Community, sustainability and health are central to the 18 Chestnuts mission. We create healthy, plant-based soup and package it in fully recyclable material, from production to your doorstep. Grab a jar today!
18 Chestnuts crafts delicious, plant-based soups that deliver on nutrition and flavor. We offer soup delivery subscriptions and one-time orders. Whether you're too busy to cook, want a nutritious meal option, have dietary restrictions, or want to send soup to someone who needs a comforting meal, 18 Chestnuts is for you!
With a wide range of healthy soup flavors including Beetroot Apple, Red Pepper Pomodoro, Carrot Ginger Dill, Butternut Squash Pear, and Asparagus Shiitake, our gourmet soup will thrill your tastebuds. All 18 Chestnuts soups are dairy-free, low-glycemic, locally sourced, and nutrient-dense. Check out our soups and schedule your gourmet soup delivery today!
Source: Treehugger, "Glass vs. Plastic"